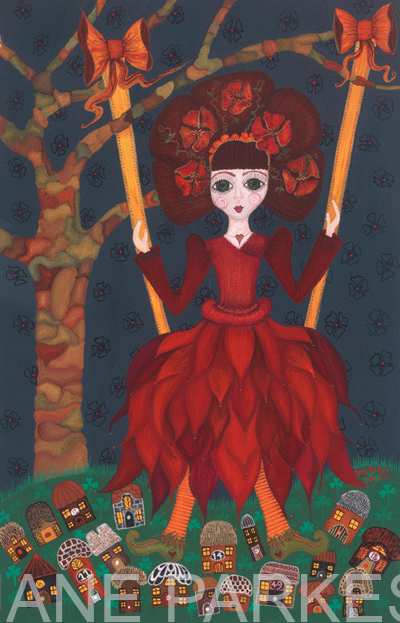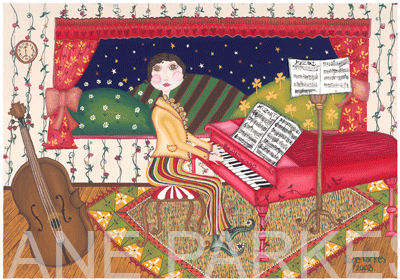 I trained as a music teacher, gaining B.Mus.Ed and Dip. Mus at Newcastle University Conservatorium. I won the Keith Noake Prize for Student of the Year in my final year – this was on my special interest instrument – the harpsichord. I would love to paint one!
For the past 22 years, I have taught Music and a little bit of art at Newcastle Grammar School. I love teaching. From childhood, I have drawn, painted and enjoyed making things. Art has always been of utmost importance in my life. I find refuge here.
My pictures are naive and very detailed. I suppose they could be described as fairy stories. When I pick up a paintbrush, I enter into my private world. In there, everything is calm, safe and beautiful. There is whimsy, perfection and happiness. Whilst painting, I am completely focused on colour and the creation of a harmonious world for my characters.
I use gouache on paper and sometime a sprinkling of gold leaf. I have chosen to reproduce my originals using a process called giclee. The quality always astonishes me and to make each limited print my own again, I retouch it with gold and white. A growing range of cards and limited editions are available on this website.
I have had two successful exhibitions at the Cooks Hill Galleries 1998 and 2010. I have exhibited annually at the Newcastle Grammar School Nexus exhibitions for the past 10 years. I have completed many commissions over the years and enjoy this process very much. These include individuals (young and old), beautiful homes, pets, poems, song lyrics, many many little girls and boys, ballet dancers, farmers, golfers etc etc.